Veterinarians
Mariliz Hernandez, DVM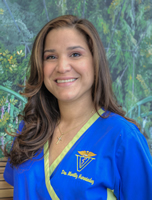 Dr. Mariliz Hernandez is the Owner of Bellerose Animal Hospital, she has been a senior Veterinarian here for the past 9 years and purchased the Hospital in January of 2014. Dr. Hernandez is committed to maintaining the high level of medical care Bellerose is known for, as well as well as making some exciting improvements to the facility.
Dr. Hernandez has set very high standards for herself and expects the same from her entire team. She has surrounded herself with the best clinicians, technicians and support staff to ensure that every patient receives the very best medical care and attention.
Born and raised in Puerto Rico, Dr. Mariliz Hernandez attended the University of Puerto Rico, Arecibo, where she earned her bachelor's degree in microbiology. As a student, she earned a deep-sea diving certificate, which allowed her to pursue research on the diseases of the coral reef. Dr. Hernandez received her Doctorate of Veterinary Medicine from the College of Veterinary Medicine at Tuskegee University in 2002. After graduation, she worked in private practice in Queens, New York, before joining the Bellerose Animal Hospital veterinary team in November 2006.

With professional interests in surgery, internal medicine, and dermatology of dogs and cats, Dr. Hernandez enjoys practicing general veterinary medicine and surgery. Fluent in Spanish, she loves interacting with people and helping her clients and their pets. This personal commitment, evidenced in her interest and caring, brings warmth and compassion to her medicine, which her clients love.

Dr. Hernandez is married to Dr. Rick Guzman, Owner of Assisi Veterinary Hospital, located in nearby Malverne, NY, on Long Island. Together they have 2 beautiful children. The family likes to spend their time with their pets. They include Jet, a Great Dane; Tito, a Chihuahua, Bruno, a Bulldog mix, Harley and Scratch, two male cats, all of whom are rescue animals.
Fascinated by the beauty of the sea, Dr. Hernandez's undergraduate interest in saltwater fish continues in her home, where she maintains a 200-gallon coral reef tank. She also enjoys traveling to the Caribbean for vacations, sightseeing, and visiting her family.
Tania Dejoie, DVM
Dr. Tania Dejoie, was born and raised in Brooklyn, NY and first expressed her love for animals volunteering at the ASPCA. She received her Bachelor of Science degree in Animal Science from Cornell University in 2007, then continued on to complete her Veterinary Medicine degree in 2012.
Following graduation, she was accepted into a year long small animal rotating internship at Veterinary Emergency and Referral Group in Brooklyn. She rotated through internal medicine, surgery, oncology, emergency, cardiology, ophthalmology and neurology services. The internship allowed her to develop her professional interests in internal, preventative and emergency medicine.
Tania is happy to be back home in New York City. In her free time, she enjoys going to the beach, knitting, singing, playing guitar and spending time with her dog, Old Man Copper, and her fiancé.
Christine Taddeo, DVM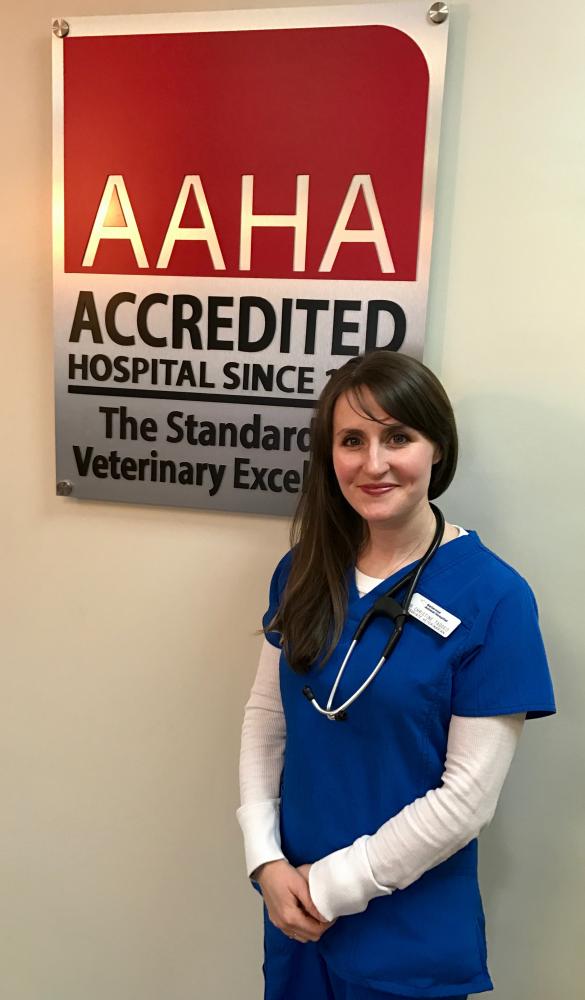 Dr. Taddeo was born and raised in Queens New York. She received her Doctorate of Veterinary Medicine from Cornell in 2007. Following graduation she completed a rotating small animal internship at Oradell Animal Hospital in New Jersey. Here she received advanced training in multiple specialties including internal medicine, emergency medicine and surgery. Dr. Taddeo has practiced on Long Island for the past 7 years and is thrilled to be a part of the exceptional team at Bellerose Animal Hospital. Her special interests include internal and emergency medicine and she has a particular affection for our feline companions. She lives with her husband, two children and two cats. As a veterinarian and a mother she finds it particularly rewarding to raise her children with a deep love and respect for all creatures.
Dr. Dennis Trafny

DVM, DACVIM
Staff
Kyle Olsen

Hospital Manager
Kyle Olsen is the manager of Bellerose Animal Hospital. Kyle has more than 20 years of experience in customer service and general management. As the manager of Bellerose Animal Hospital, he is responsible for ensuring the success and growth of the practice while maintaining the highest quality of medical care and customer service standards for our patients and clients.
Kyle has standardized our policies and operating procedures, which has elevated the level of service we are able to provide our clients. He oversees our daily operations and has helped to create a progressive and positive environment for patients, clients, and our employees. Kyle developed our advanced training and cross-training programs and helped create job descriptions and work positions that are unique to Bellerose Animal Hospital, all of which has streamlined our daily operations and greatly improved our efficiency. He is extremely customer focused and works tirelessly to ensure you and your pet have a rewarding experience at Bellerose Animal Hospital.
When Kyle is not at the hospital, he enjoys the outdoors, especially the beach and spending time with family and friends. His constant companions are two Brussels Griffons and a very demanding French bulldog named Gigi.
Veterinary Technicians
Our veterinary technicians are chosen through a rigorous selection process and become part of our team based on their attention to detail, intuitive awareness of veterinary medicine, and their desire to continue learning throughout their career. They provide 24-hour veterinary medical care on procedure days. Our technicians are anxious to work with you to better understand your pet's medical needs. They are always available to answer questions, provide education, and make your experience at Bellerose Animal Hospital superior.
Alejandra Gallardo, LVT
Sharon Lee, LVT
Steve Venier, LVT
Beatriz Concha, LVT
Stephanie Velasco
Veterinary Assistants
Fritz Cyriaque (Radiology Aide Supervisor)
Darline Sarmiento
Stephanie Correa
James Donely
Jasmyn Gerald
Emily Masera
Johana Perez
Office Staff