Highly Skilled Surgeons

Perform Common to Complex Veterinary Surgical Procedures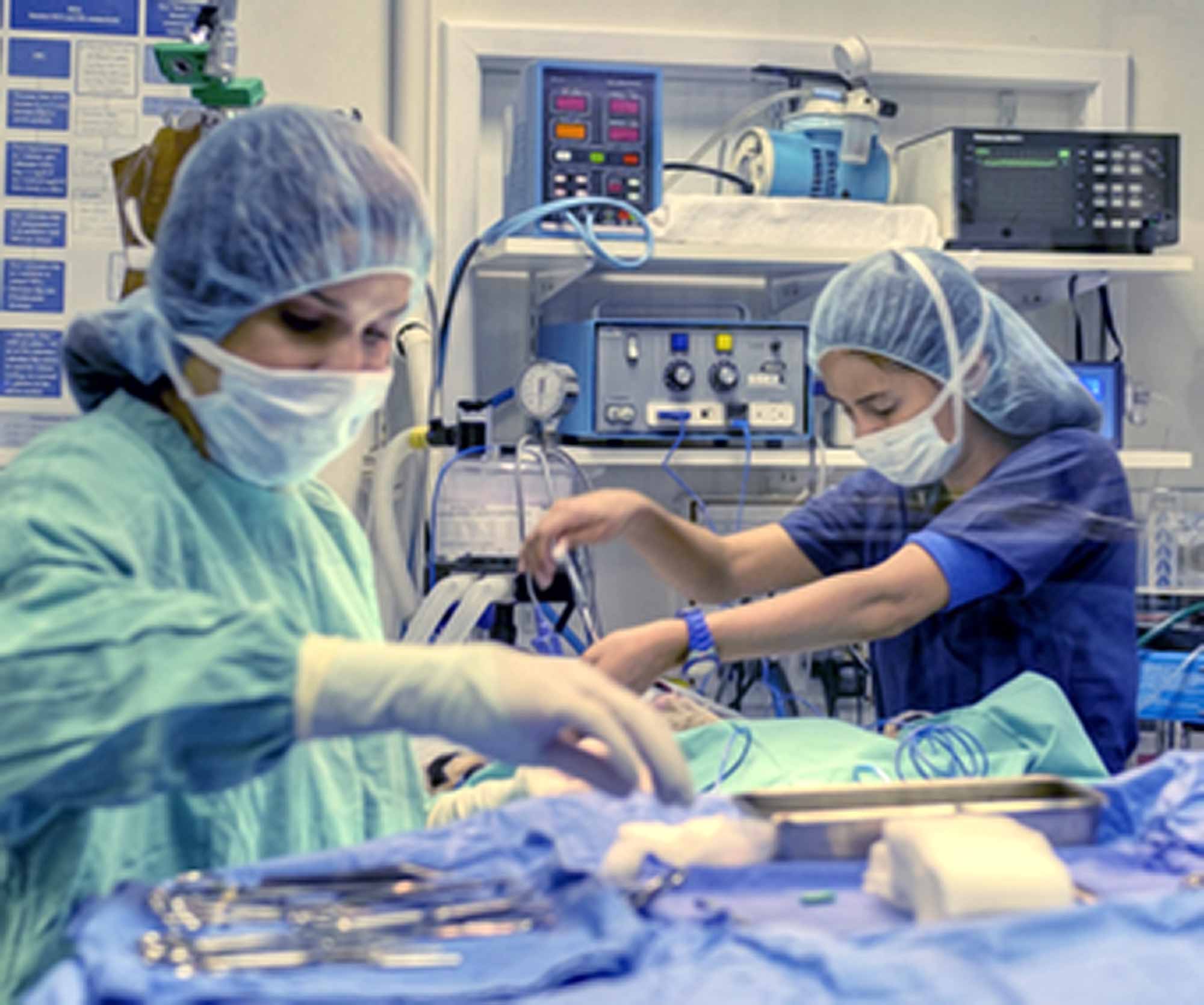 Our trained veterinary staff and fully equipped surgical suite offer your pet the best care possible if he or she requires surgery of any kind, from a simple spay or neuter to chest, abdominal, or orthopedic procedures to cancer surgery. All of our animal patients are treated as people are in a human hospital, with a full team of caregivers closely monitoring their progress every step of the way. We focus on positive patient outcomes and always strive to provide the least invasive and most effective procedure for your pet.
If your pet requires surgery, we will begin with a pre-surgical exam that includes:
Thorough physical exam to identify any existing medical conditions that might endanger your pet during a surgical procedure
Blood testing to get a complete picture of your pet's health and to enable us to tailor an anesthetic regimen that will best suit your pet
EKG and chest and abdominal X-rays, if necessary
Updating any vaccinations, if necessary
Discussion with your veterinarian and our team of licensed technicians to fully understand the surgical procedure and likely post-operative care
Veterinarians and technicians will be there every step of the way to answer any questions you may have
It is essential to monitor and control anxiety so that our patients have the best chance of an easy surgery and recovery. Stress and fear can delay healing, and we are careful to reduce these forms of anxiety as much as possible both before and during surgery.
During surgery, your pet will be closely watched at all times using anesthetic, cardiac, and pulse oximetry monitoring devices. We also monitor blood pressure and carbon dioxide levels and run essential blood tests as indicated. Pain management is an essential part of our care, from pre-operative, through surgery, to post-surgical supervision.
We believe in thorough, consistent communication with our clients every step of the way and will keep you informed about your pet's progress throughout the procedure and recovery process. We will work closely with you to ensure your pet receives the necessary pain management protocol after surgery so that he or she makes a comfortable and speedy recovery.
If your pet is scheduled for surgery with us, please remember:
No food after 11 p.m. the day before the surgery.
It is okay to leave water out the day before the surgery. Ask your doctor when to take away your pet's water bowl.
Admittance time is between 7:30 and 9 a.m. Under some circumstances, we can admit your pet the evening before surgery if your work schedule requires.
Please notify us of any medications given to your pet 24 hours prior to surgery.
Discuss dietary preferences or concerns, including whether your pet prefers canned or dry food.
Depending on the nature of the surgery, your pet may need to be hospitalized to allow for continued (24-hour) monitoring, analgesia (pain relief), and recuperation. All pets staying overnight at Bellerose Animal Hospital are closely monitored 24 hours a day by New York State-licensed technicians and highly skilled aides.
"I love this place. Both of my dogs go here. The staff is always very nice! The doctors are amazing and take the time to explain everything to you about your pet.

"The staff at Bellerose has treated our family's pets continuously since 1963. I cannot say enough about the excellent care that our pets have received from their professional, caring staff. They have treated 2 dogs and 7 cats during the last 49 years for everything.

"COMPASSIONATE STAFF.I was fairly charged for all the loving care. HIGHLY RECOMMENDED.

"friendly atmosphere, easy to get to location and a great staff—been going here for years and highly recommend it! The best decision I ever made! Unquestionably one of the best veterinary practices in the world!All of the vets here are fantastic.
hktep
"Loretta was a very special dog who had a good life with us and we had a good life too. My husband and I believe that your hospital and caring staff made her quality of life exceptional. Thank you all.

" I would also like to take this opportunity to tell all of you how grateful I am for your many years of dedicated medical care to my beloved Spunky. It's been 16 years, 5 months, and 7 days of wonderful service and loving concern and I will always love you for it!
Very Sincerely Spunky's Mom
Lorraine Abrams
"We need you to know we will always be grateful you helped give our Fredo and us so many happy years together.
Many, many thanks,
Carol and Maria
"I wanted to thank you for everything that you did for my "baby". You are such a great vet and I will be forever grateful for everything you do for me and MJ.

"We loved Missie very much as she loved us for ten years. She was a member of our family. We needed the little time left to us to talk to her, pet her, comfort her and express our love for her.

"We would like to take the opportunity to say how we are pleased at the service Sammy receives at your facility. Especially for Dr Mariliz Hernandez, she is a great asset to your hospital. We appreciate the care and understanding Dr Hernandez shows Sammy at the time of his exam.
Sal and Gloria Carbone
"Because of people like you...thank you for all you do. Without the entire Staff, I would not have had Barney for as long as I did. You gave him all of your experience and love, everytime he needed you all.
I cannot express my thank you's enough
Tom Ball
"We continue to offer our patients all of the advantages and resources of a large teaching hospital with the individualized care and compassion of a progressive family practice.